#how to sell a car
#
Tips on Pricing and Selling a Used Car
Last Modified: September 16, 2015 by Jeff Ostroff | Originally Published November 16, 2000
Strategies to sell your used car with classified ads
Why you should run a report on your VIN to sell your car
How to sell your used car and transfer title when you still owe money
Our free Bill of Sale form for you to use when you sell used cars
Negotiating tips for dealing with tough buyers
Most people search the web for used cars. If your car isn't listed in a used car classifieds site in addition to newspapers, you could have a tough time selling your car.
Determining the Price of Your Used Car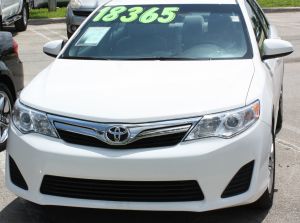 There are various books (NADA Guides, Kelley Blue Book, etc.) that will list the value of your car based on condition, mileage and geographic area. But I think that the best way to determine market value is to look at the final selling price on various car selling websites like eBay Motors and Yahoo! Autos.
FACT: You get more for your car selling it yourself instead of trading it in to a car dealer. If it's less than 4 years old, dealers give you at least $3,000 less than market value for it.
If your car is over 4 years old, dealers give you only 25% of fair market value!
If a dealer offers market value for your trade-in, they are making up for it on the back side of the deal in the form of full retail price, wasted dealer extras or bad APRs. Anyone who thinks a dealer is really giving them market value for their trade in is living a pipe dream.
Seller's Negotiating Tips
Be prepared before the first buyer shows up. Make printouts from several car pricing sites showing the market price of your car. Do not print out trade-in values. If the buyer complains about every scratch, mark stain, on your car, tell them it's normal wear and tear for a car of that age and mileage. Every used car has scratches from road debris.
If they give you a sob story that they have no money, ask them why they came if they had much less money than your firm asking price. Now you have them on the defensive. Your car is still worth market value no matter what money the buyer has. This is why I recommend that in your ads, you mention that the price is firm.
Eliminate the buyer's #1 reason for not buying your car!
You should put the buyer's mind at ease by giving them a copy of an AutoCheck Report on your car that they can take home. It will show that your mileage has not been rolled back, your car has never been flooded or junked or in a wreck. Buyers are always wondering 3 things: What's the mileage? Was the odometer rolled back? Was the car ever in a wreck or junked before? Eliminate these fears and you eliminate their #1 excuse for not buying.
List Your Car on All Online Used Car Classifieds
You never know who is looking where for used cars, so give yourself the best odds and blitz all the main online used car classifieds. I'm a believer in blitzing the media. Place your classified ad on multiple sites for maximum exposure. Here's our reviews of the major players.
CarsDirect.com will help you sell your car fast by showing your ad to millions of car buyers every month.

Favorite Features:
It's easy. Enter your car info, upload a photo. Pay for the ad online with your credit card. You can edit or extend your ad any time for no extra charge.
Run your ad until it sells
Edit your ad any time for free
Your ad gets preferred placement in CarsDirect.com premium used car listings
More cost effective and easier than advertising in the newspaper
Cars.com reaches 10 million online used car shoppers each month. Your online only ad with photo appears on Cars.com, and over 175 affiliated websites.